The Digital Download August
The Digital Download: Your monthly insight into the ERM Ecosystem
Good afternoon,
Welcome to the new financial year! For many of our clients, things are picking back up again and there are many things to navigate as we find our place in the 'new' normal. We are honoured to continue supporting you during these times, one of the ways being to help educate and bring awareness around pertinent issues, via our monthly newsletter.
It's Facility Management Month here at ERM Online
Adopt a sophisticated approach to managing all aspects of your organisation's facilities.
Leverage the power of a centralised solution from the raising of a maintenance request, preventative maintenance program, contractor certificates and contracts through to the management of your contractor entry. Allow your business to benefit from a single integrated facilities management solution with a consistent look and feel across your entire organisation. View our Facility Management solutions below. 
Have you considered adding these to your current ERM Online ecosystem?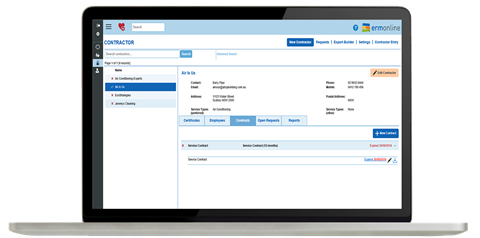 Embed an enterprise-wide agreement management solution which tracks & notifies your Staff when any contract, service agreement or lease is due to expire, allowing you to extract the full value from all your agreements.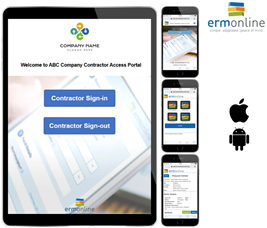 Visitor/Contractor/Volunteer Entry
Validate all company & individual site requirements & notify internal contacts based on the reason for the visit to allow for peace of mind, knowing that any visitor, volunteer or contractor onsite has been validated and has met all your organisation's entry requirements.
We have recently deployed the following new features and enhancements – check them out or contact our Support Team at support@ermonline.com.au for more information.
Asset Register
Our new Facility Management ecosystem now allows you to associate an asset to a work order request.
Entry Portal COVID-19 Questions
Upon request, we can now add extra client-specific COVID-19 questions to be answered before coming on site.
"No Touch Entry" with client specific QR Code
Upon request, a QR Code can be included on your entry portal where visitors, contractors or volunteers click on the code and complete the entry process via their own phones.
Queensland Working With Children
Working with Children renewal summary notifications will now be sent 112 days from expiry to bring it in line with changes coming into effect on August 31st. 
And it's customisable. Chat with us to see how we can tailor a digital ecosystem for you.